If you are in the United States and you want to ship important educational material or media through the best and fastest mail service then, USPS Media Mail Tracking is one of the finest postal agencies for that. USPS was founded in 1775 and stands for "United States Postal Service". The United States Postal Service is a remarkable and independent agency that provides cost-effective shipping services to American citizens throughout the United States.
USPS postal service agency receives, delivers, and processes mail. In addition, the United States Postal Service provides the citizens of America with impressive customer service and protects them from identity theft and money laundering which makes this organization more notable. The service does not only take care of your packages but also protects you from certain mail crimes.
USPS has always made things convenient for its customers. With USPS you can find the right domestic mail service at affordable shipping prices including the fastest mail services. You can schedule a pickup of your standard mails, packages, and parcels from your home as well. Tracking options are also available through which you can track packages anytime and anywhere.
In this post, we will discuss what actually media mail is, how media mail operates, and how tracking is useful for the customer while using this service.
What is Media Mail?
USPS media mail is a very special type of shipping option that's available to only a selected set of items which are mostly media items. Media mail came out in 1930, mostly intended for books, in order to ship them at a low price. But now these services are used to ship different media items as well.
USPS gives you the option to select among their different shipping services according to your requirements. Media Mail is also one of these shipping services. Media Mail is a parsimonious and forehanded way to send your items to their destination. Through Media Mail, you can ship your crucial educational material and media at reasonable prices.
What is the USPS media mail service?
The USPS media mail service is one of the domestic mail services delivery options which is used to send educational documents and media at low-budget shipping costs depending upon your item size and what kind of item you are sending and its destination.
How Does Media Mail Work?
You can ship many of your media items from Media mail. Media Mail is not a distance system zone-based, it only depends upon the weight and size of your package.
It is addressed just as any other USPS mails are. Once you are done with the address and the package is sealed, weigh it, and using your Stamps.com account, choose the media mail option and print your postage. The delivery time and date will be calculated by the Stamps.com software.
Only 70 pounds of an item is allowed to be sent, nothing over it can be shipped. Certified mailing and insurance are the additional services provided in media mail which can be added as per your request. There is another condition as well USPS is allowed to open your package and examine it thoroughly to keep you safe from mail crimes and USPS can also send the package back to the submitter.
See Also: How Many Stamps Do I Need? 
How Long Does Media Mail Take?
Depending upon where the package is delivered to and at what time the package was dispatched from the postal office, the USPS estimates that your media mail package can take up to 2 to 10 working days to arrive and it can be shipped throughout the United States, including the affiliated states and insular areas as well within this time.
What is Media Mail Shipping?
Unlike other mail services, there are many restrictions on USPS media mail delivery service. The type of items that can be sent through this service is limited. Mostly, it is used to send educational materials which can include different kinds of books and media items.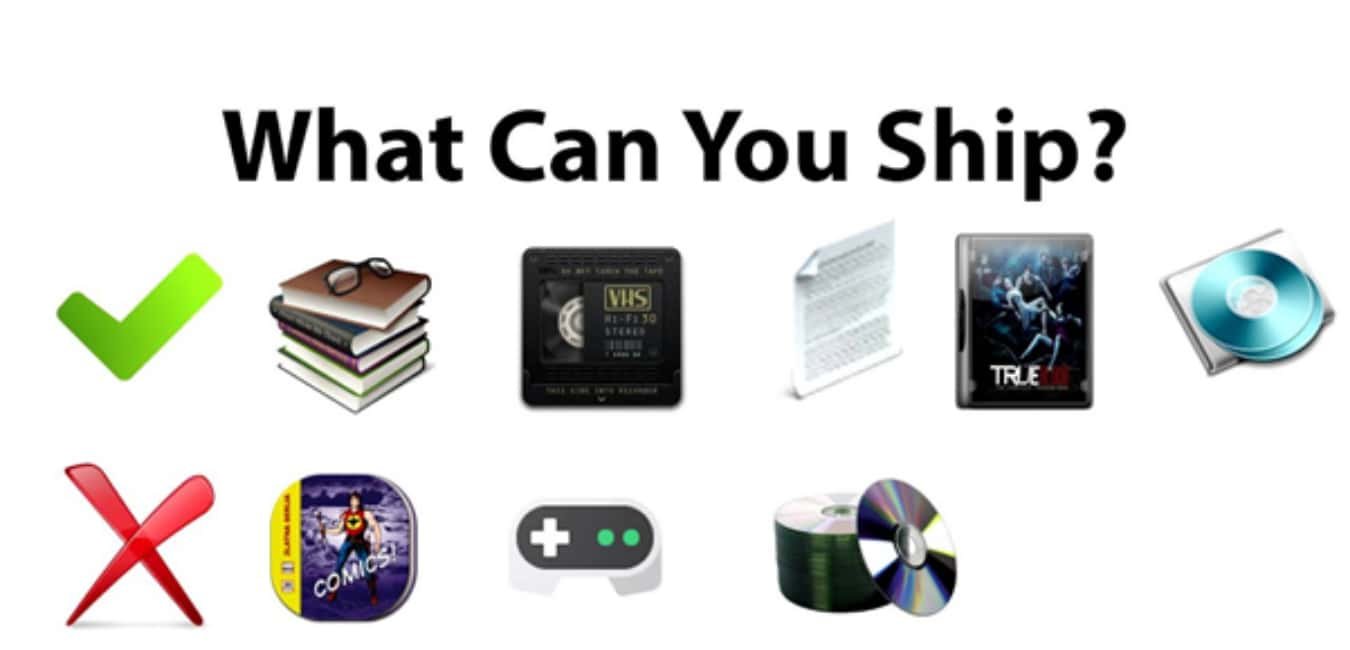 The items which can be shipped through USPS media mail include:
A book consisting of eight pages.
Video and sound recording.
Play scripts, manuscripts, and printed music.
Computer-readable media and test materials.
Binder, pages of medical loose-leafs
Films with a width of 16 mm or narrower than 16 mm.
Can I use media mail for anything?
No, there are a lot of things that do not qualify for media mail. Only the above-mentioned lists of items can be shipped by media mail. Items like video games, fabrics, computer and digital drives, trading cards, and comic books are not allowed to be shipped.
Know About Where to Buy Stamps
How Much Does Media Mail Cost?
The Media mail prices solely depend upon the size of the item. However, the starting cost at the post office is $3.19 and the starting cost of the commercial is $1.91. These prices also cover the USPS tracking services for the packages, signature confirmation for the parcels, return receipt, and delivery receipt which is collected on delivery.
Does Media Mail Have Tracking?
Yes. The Media mail items can be tracked in its shipping service. The USPS has included tracking in media mail as free of cost. Now you can easily track your package or parcel anytime and know the status. You can locate your package location and can see the time of its delivery as well. The USPS Tracking is done through a software called Stamps.com.
It will be quite easy for you to send the media mail service orders while using Stamps.com cost codes which is a new feature. You can simply and easily keep track of your packages without any difficulty because this cost codes feature allows you to categorize your packages in different carts. Hence, track of your business expenses is kept more effortlessly.
Does Media mail come with tracking?
Yes, the media mail comes with tracking. Thanks to the USPS tracking system you can easily track down the order you have shipped and can estimate the time and date you're going to receive your order.
How do I track UPS media mail?
By using the package ID number of your UPS media mail, you can track your order. All you have to do is enter this ID number into ups.com software and check the status of your shipment. You can easily track your package and get your order location.
Check Now: Does Walmart Sell Stamps?
What Can Be Sent by Media Mail?
You can ship many of your media items from Media mail including books, DVDs, videotapes, video recordings, manuscripts printed music, CDs, and many more items.
But the weighing of the items allowed is only 70 pounds, which can be sent or received. Nothing over it can be shipped.
Is media mail faster than USPS?
No. Media Mail is not that much faster, it usually takes a much longer time to reach its destination as compared to priority mail express, priority mail, and first-class mail which are USPS's other shipping services. These services take 1 to 3 business days while on the other hand media mail takes 2 to 10 business days.
USPS Media Mail Tracking – Final Sey
For the USPS media mail tracking, it is important to request the tracking number and signature delivery so that you can track your package anytime, anywhere.
No doubt, you will get your package in time as USPS ensures the safety of its customer's packages, but it is essential to keep yourself updated about what steps your order is going through and when will you receive it.