Postage mail or shipping items to Canada is not just as simple as that being done within the United States. Although Canada is part of the same landmass but is considered an international country. Hence, shipping to Canada is also international and the international rates apply for shipping to Canada.
Related to International postage to Canada, it is often asked "How much is international letter postage to Canada?" Here's the answer. You can easily send envelopes and letters to Canadian addresses for the most affordable rate, especially when you use USPS to mail them. First-class shipping for international deliveries begins at $1.20 for a maximum of three ounces of mail to be delivered within Canada.
In this article, we're going to cover some important aspects of Postage Mail to Canada to make it easier for our readers to get knowledge about these services.
Best Carriers for Mail to Canada
It is extremely important to have knowledge about the best mail carriers for sending your mail to Canada. To make sure your packages get delivered on time and with responsibility, it is important to choose the right mail carrier.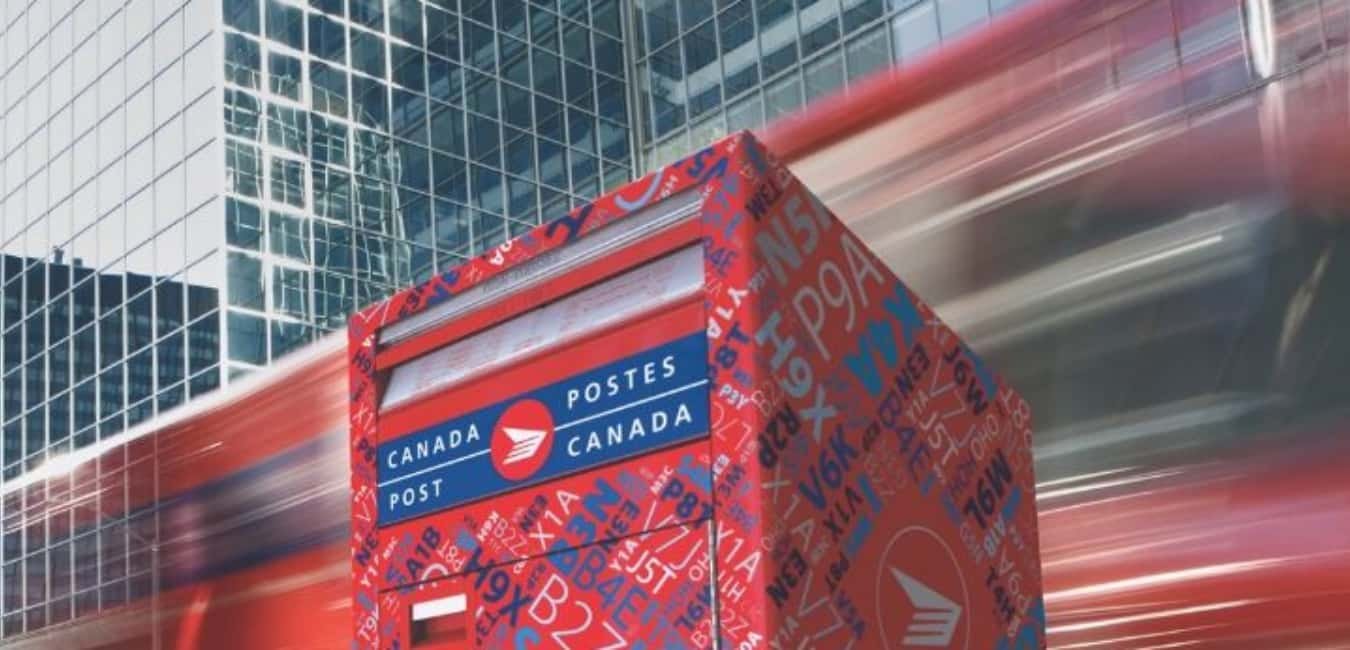 Here are the three most popular carriers with a great reputation.
In terms of the cost of delivering to international addresses, the USPS is probably the cheapest of them all. They also have an established reputation for being customer-focused and delivering on their promises.
When you need packages or mail delivered to an address in Canada, FedEx and UPS are also great choices.
Prior to shipping parcels into Canada, the USPS sets a weight limit that is 66 pounds. Increasing your weight over this limit means you need to switch to a different provider such as UPS. FedEx, however, does not disappoint when it comes to speed. So, if speedy delivery is your top priority, go for FedEx.
How much is a US stamp?
The prices of US stamps have increased in the past few months. According to the new rates, Forever Stamps selling for 55 cents each will go up to 58 cents, starting at the beginning of October. This means it will cost 60 cents more to buy a book of stamps due to the increase. Also, First-class letters will cost 53 cents instead of 51 cents.
Can I mail a letter to Canada with Forever stamps?
Yes. You can definitely mail a letter to Canada with Forever Stamps. In fact, using the Global Forever Stamps is the simplest way to send letters from the US to Canada.
Can I put two Canadian stamps on a letter to the USA?
Yes. It is up to you to put as many stamps as you want but make sure you have enough space for the address too. If you mail a letter to the U.S. from Canada using two Canadian Permanent stamps (and assuming the card meets the required size and weight specifications), your stamps will cover more than half of the postage that would be required.
Postcard Postage to Canada
Just like here in the United States, sending postcards to Canadian addresses is quite inexpensive. USPS offers international postage rates for sending postcards to Canada. The cost of shipping a postcard to Canada is $1.30. One Global First-Class Forever Stamp ($1.30) or three First-Class Forever Stamps ($1.74) are the two options available.
There are a few differences in the postage costs for postcards sent internationally to Canada compared to those in America. Depending on the extra delivery options you might enjoy, you might have to pay at least $1.20 in postage (although that can jump up to almost two dollars pretty quickly).
If you are sending your postcard to Canada, you should make sure that its dimensions match those provided by the USPS. Card dimensions should be 3.5″ x 5″ to 4.25″ x 6″.
Postage to Send Standard Envelopes to Canada
With USPS, envelopes can be posted to Canada at international rates. A single Global First-Class Forever Stamp (for $1.30) or three First-Class Forever Stamps ($1.74) will cover the postage for an envelope weighing less than three ounces going to Canada.
For each additional ounce, your envelope weighs over three ounces, you will have to pay $0.53 in postage.
Standard envelopes are envelopes that fit between dimensions of 3.5″ x 5″ x 0.25″ and 6.125″ x 11.5″ x 0.25". When your envelope contains rigid or angled sections, it will not be able to be machine-sorted, which means it must be manually sorted. An additional $0.21 is required for non-machinable envelopes.
Postage to Send Large Envelopes to Canada
Using USPS's international postage rates, you can send large envelopes to Canada. The US Postal Service considers large envelopes to be those measuring between 6.125×11.5×0.25 inches and 12x15x0.75 inches. However, the postage rates totally depend on the size of your envelope.
Here are some details about the envelope sizes and their postage rates accordingly.
You can use one global forever stamp worth $1.20 to send 1 or 2-ounce envelopes to Canada. The alternative is to use three domestic forever stamps at $1.65 total, which will cost you $0.45 more. This rate is ideally used for postcards and letters whose dimensions do not exceed the requirements. You will need to pay an additional $0.21 for square envelopes since they aren't machinable.
For a 3-ounce package, you are required to buy one $1.20 global forever stamp, one 35-cent postcard stamp, one 10-cent stamp, and two 2-cent stamps. By paying an additional $0.71 instead of purchasing four domestic forever stamps costing $2.20 altogether, you can save $0.71. There is also the option to pay an additional $0.51 instead of purchasing four domestic forever stamps costing $2.20 in total.
Over 3.5 ounces in weight are considered flats. For flat envelopes to Canada, the starting rate is $2.40 and two global forever stamps are required. Items should not exceed 0.75 inches in thickness. At a minimum, flats should be 6.125″ x 11″ and should not go beyond 12″ x 15″.
To post 4 ounces of mail to Canada, you would need two global forever stamps, a 10-cent stamp, a domestic forever stamp, and a 1-cent stamp, for a total of $3.06 Overpayment is $0.54 for three global forever stamps or $0.24 for six domestic forever stamps.
Stamps costing at least $3.28 must be used on mail weighing 5 ounces. For additional ounces, you may use one global forever stamp, two 15-cent stamps, one 2-cent stamp, one 1-cent stamp, one domestic forever stamp, and two 15-cent stamps. Alternatively, six domestic forever stamps may be used instead of three global stamps.
If the weight of the mail is over 5 ounces:
$3.50 per 6 ounces
$3.72 for 7 ounces
$3.94 for 8 ounces
$5 for 9 ounces
$10 for 10 ounces
$5 for 11 ounces
$5.3 for 12 ounces
$6.12 for 15.994 ounces
Above, bracketed amounts indicate the minimum number of stamps required per ounce. Different combinations of stamps can be used to calculate that value for mailing a weighted item. 15.994 ounces is the maximum weight allowed.
Postage to Send Packages to Canada
Postage for packages going to Canada will be determined by both package size and weight. Having your shipments delivered to addresses in Canada will also require you to factor in any special shipping options (expedited shipping, insurance, etc.)
The good news is that if you are going to send your packages via USPS you will be able to calculate the postage cost in advance. To find out the postage cost in Canada, visit the USPS website (www.usps.com), and enter "Canada" in the USPS Postage Price Calculator.
Set the date and time for dropping off your package, enter your ZIP code information, and choose the type of delivery service you want to use.
If you decide to send a package to Canada, you'll be given a detailed breakdown of shipping costs. It is also possible to use USPS International Flat Rate Boxes if you want to reduce the headaches and hassles of calculating shipping costs (especially international shipping costs). Having the package or envelope fit in one of these preapproved envelopes or packages will allow you to pay a single, flat rate.
Delivery Times to Canada
USPS First Class Mail International is the standard shipping option used when mailing postcards and First-Rate envelopes. It takes an average of 7-21 days for a postcard to arrive. However, postcards and envelopes can be delivered within 6-10 days using Priority Mail International. A postcard or letter sent via Priority Mail Express International will arrive in 3-5 days, and it will be the most expensive option.
The length of time it takes to deliver your package depends on your carrier and shipping method. Shipping delays can also be caused by customs. Usually, FedEx, UPS, and USPS deliver parcels within 2-7 days of shipping.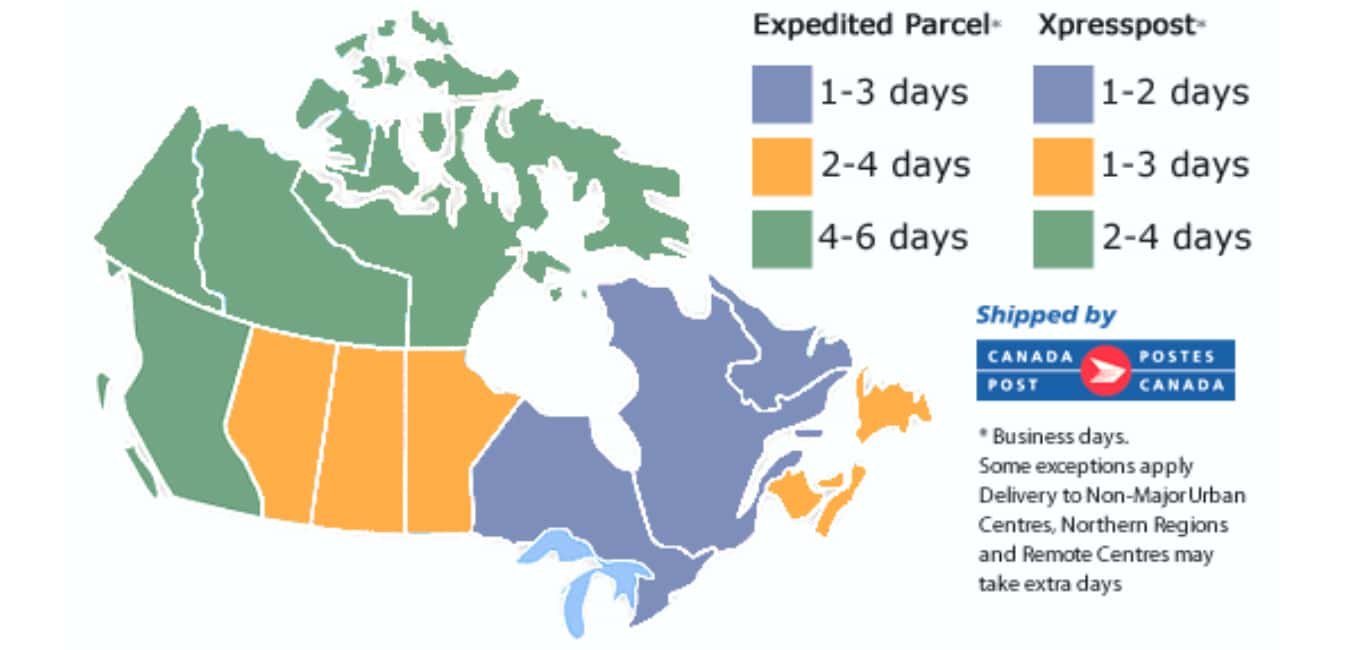 Customs Forms for Shipments to Canada
When shipping internationally to Canada, the following documents must accompany each shipment:
Canada Customs Invoice, or a Commercial Invoice
Bill of Lading
Manifest or Cargo Control Document
Shipper's Export Declaration
You do not need to provide any additional documentation when shipping with USPS, as customs declarations are incorporated into your parcel labels. UPS Electronic Data Interchange (EDI) allows you to fill out your customs forms using the UPS system. FedEx Electronic Trade Documents (ETD) can be used to complete your customs forms if you are shipping via FedEx.
Addressing Mail to Canada
Canada's addresses are very similar to those of the continental United States. Addresses should be formatted as follows:
Name of Addressee (the person whom you're shipping to)
Street Address
The municipality, Province, and Postal Code (It follows the same syntax as the city, state, and ZIP code in the United States)
Country Name
How Long Does It Take for Mail to Get to Address in Canada?
There is a chance that the first-class mail sent to addresses in Canada could take even longer than 7-21 days to arrive, though most are going to be delivered within 7-21 days. Getting ahold of the post office to find out what's going on is a good idea if your mail has still not arrived after 21 days.
With traditional Priority Mail to Canada, you can expect delivery within 6 to 10 days, and with Priority Mail Express, within 3 to 5 days.
Can I Track Mail When It Moves Through Canada?
Your mail will be tracked as it moves through Canada, almost always with the same tracking number that you were given when you dropped it off. The US Postal Service doesn't track first-class mail (traditionally), but Canada offers premium tracking services for a small additional charge. If you can, however, consider registered or certified mail (which is more cost-effective).
There is no doubt that packages will be tracked every step of the way, even after they cross the border into Canada. As your package travels from its origin in the U.S. to its final destination in Canada, you'll be able to track its progress.
Prohibited Items to Import to Canada
Anything that may be dangerous or risky to be delivered is prohibited for delivering to Canada. A few examples of such products are as follows:
A dead animal, including a dead bird, or its parts
Diamonds
Drugs and illegal substances
Dairy products such as eggs and milk
Meat, poultry, fruit, and vegetables
Intoxicating liquors
Any form of tobacco products (cigarettes, cigars, chewing tobacco, and e-cigarettes)
Specific plants
Money
Gambling-related items, such as lottery tickets
For detailed info about the prohibited products, you may visit here.
Our Verdict
Before packing items up and mailing them through the mail to Canadian addresses, it's a good idea to check with the post office and make sure you can send items there.