In the US, stamps were first published in 1840. Stamps are the most important thing which is used to pay Postage rates before delivering your parcels or letters.
The Sender has to pay the Postage fees. Keep in mind that each stamp has a denomination and the sender has to pay that amount that is printed on the stamp.
9 Major Types of Stamps at the USPS
Different types of stamps are available in the US, and each type has its own denomination and distinctive use. Moreover, stamps can be bought individually, in sheets, or in booklets.
Here are some common types of stamps that are available in the United States:
Definitive Stamps
Commemorative Stamps
Forever Stamps
Semi-Postal Stamps
First Day Covers
Airmail Stamps
Postage Due
Special Delivery
Military Stamps
1. Definitive Stamps
Definitive stamps were the first Postage stamp of the United States. It was first introduced in 1847. These stamps are the most common type of stamps because they are printed all the time.
Definitive stamps are used for standard and everyday mail. They come in a wide range of denominations to mail regular mail. The good thing about Definitive stamps is that you can easily get these stamps because they are reprinted all the time.
2. Commemorative Stamps
USPS (United States Postal Service) issues commemorative stamps to commemorate or celebrate famous persons' anniversaries or honor a particular person, event, or date. These stamps are not issued all the time; they are usually printed once a year.
Commemorative stamps are usually printed in numbers from 50 million to 100 million. Furthermore, if stamps are unsold, they are typically destroyed.
3. Forever Stamps
Forever stamps were introduced back in 2007. These stamps are one type of non-denominated stamp. Forever stamps feature the word "Forever" instead of having a certain denomination.
Forever stamps don't expire; they can be used forever. They are also called permanent stamps because they can be used forever. The good thing about Forever stamps is that their value will never change even if Postal rates increase.
You can still use your old stamps without paying any additional charges even if the Postage prices increase. This makes Forever stamps unique from other stamps.
4. Semi-Postal Stamps
Semi-Postal stamps are also issued for special occasions. The US Postal service issues these stamps at a premium in order to gather funds for a worthy cause. These stamps are not issued all the time; they are printed only for a worthy cause.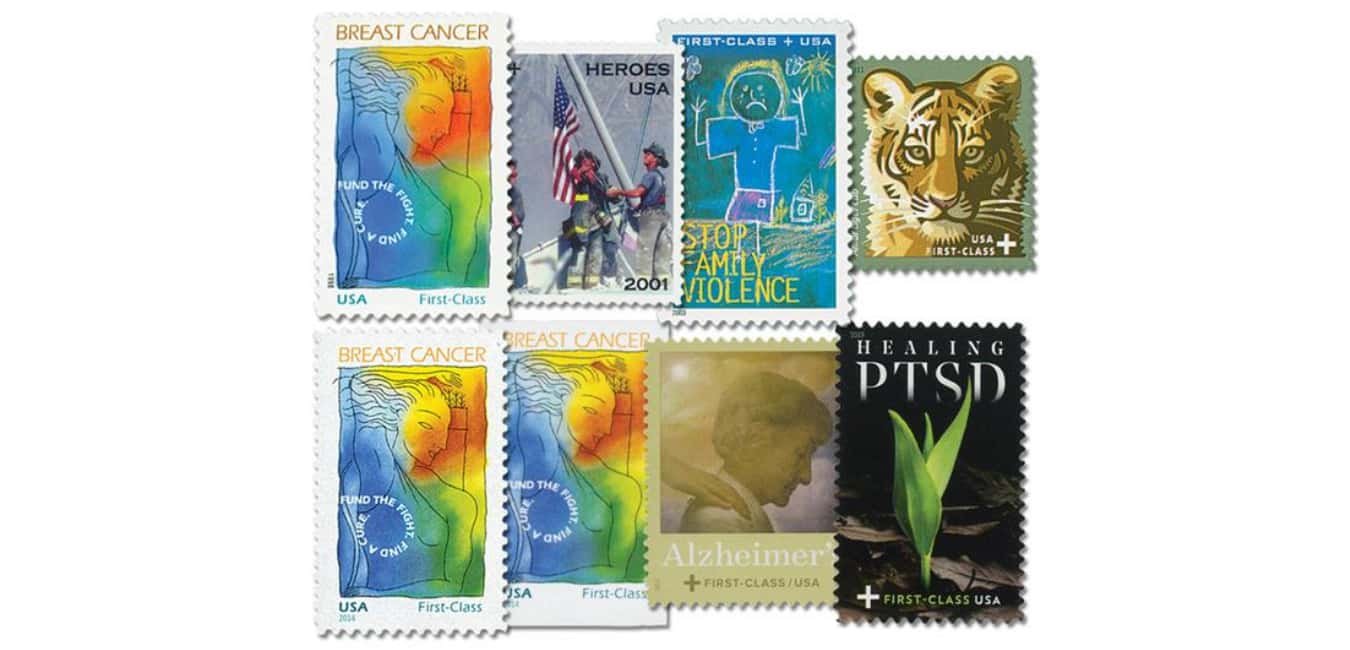 Semi-Postal stamps are mostly issued in cases of natural disasters or collecting money for a good cause. However, these stamps are more costly than Definitive Stamps.
Semipostal stamps were first introduced back in 1997 with the aim to help fund breast cancer research. This is why it is also called Breast Cancer Semi-Postal.
The next one came out in 2002 with the aim to collect funds for the families of the Twin Towers in New York after the 9/11 attack. This stamp is also known as the Heroes of 9/11 Semi-Postal.
In 2003, the other Semipostal stamp came with the aim of stopping family violence. Another Semi-postal stamp came out in 2011 with the aim of saving vanishing species.
5. First Day Covers
First Day Covers are also known as FDCs. They represent the first issue of stamps. FDCs stamps are worthy only if they've been canceled. This first issue that usually appears as a postage stamp is with an envelope that shows the date of issuing. Keep in mind that FDCs (First Day Covers) are virtually worthless in today's stamp-collecting marketplace.
6. Airmail Stamps
Airmail stamps were first introduced back in 1918. Airmail stamps were introduced to cover the costs of transferring mail by air. It was not so common at the beginning, but today it has become more popular for National as well as International mail services.
However, International airmail stamps are more used than domestic airmail stamps.  International airmail stamps are used to transfer mail from the United States to other countries. Moreover, Airmail stamps show images of pilots or airplanes in most cases.
7. Postage Due
Postage due stamps show the amount of Postage due that you have to pay. These stamps are used on parcels or letters when you don't have enough stamps. Postage-due stamps are very functional, and they don't show images of things or people.
The good thing about postage-due stamps is that if the sender doesn't have enough stamps or money for Postage, the receiver can also pay the due amount. Keep in mind that if the receiver refuses to pay the amount of Postage, the parcel will be returned to the sender.
8. Special Delivery
Special delivery stamps are really amazing. They guarantee that your parcel will be quickly delivered to the receiver once it has reached the nearest post office. Special delivery stamps are useful when one has to deliver a parcel urgently. Moreover, Special delivery stamps are also called Express Mail stamps.
9. Military Stamps
Military stamps are used for parcels that the Army handles. These stamps were highly used during the Vietnam War and WW2 (World War 2). Now, Military stamps are not so popular because of electronic means of communication. Electronic communication takes the place of Military stamps.
What About Postage Meters?
Postage meters are postage printing machines or systems that people rent for use in the home or office. Postage meters have taken the place of stamps. They print the amount due in postage directly on the envelope, so you don't have to buy the stamps or stick stamps on the envelope.
A Postage meter will work for you when you have to send a medium or a high number of small-sized parcels or letters mail. A Postage meter can save a lot of your time, money, and effort. Furthermore, the cost of renting a postage meter will be between $25 to $250.
Types of Stamps – FAQs
Is a First-class stamp a Forever stamp?
Yes, a First-Class stamp is a Forever stamp. A First-Class stamp became the Forever stamp in 2011. The US Postal Service introduced Forever Stamp for the convenience of customers. The prices of Forever stamps don't change; therefore, you can use your old stamps without paying additional charges even after the stamp's price increases.
How do I know if a stamp is a forever stamp?
Forever stamps do not have price or denomination printed on them. Instead, they have the words "Forever" printed on one side of the stamp. They are also known as non-denominated postage stamps. Currently, the price of one Forever stamp is $0.58.
What is the use of rubber stamps?
Rubber stamps are used to date incoming mail and to denote special handling of documents. In some countries, it's common practice for formal documents like contracts to be rubber-stamped over the signature to provide additional evidence of authenticity. Today, rubber stamps are used for card making, journaling, backgrounds, and decorative elements on scrapbook pages.
Our Verdict
To conclude here, Stamps can be used to mail letters or parcels domestically as well as internationally. There are different types of Postage stamps available in the US. Each stamp has its own denomination and distinctive use. Furthermore, Forever stamps are the most widely used stamps in the United States.