Postage stamps are a necessary thing in the US, and stamps are needed to send mail. People in the US are using Postage stamps to send mail for over a century. Before this, Postal services were operating on a Cash Delivery basis.
This was not a sustainable business strategy, so the postal services have moved to prepaid stamps to help prevent money loss and keep shipping costs affordable for the masses.
Although stamps' prices change over time, many people ask, Can I still use my old stamps? In this article, we are going to share all the information related to stamp expiry, and by the end of this article, you will get all your answers related to the usage of old stamps.
Do Postage stamps expire?
No, Postage stamps do not expire.
Postage stamps never expire; you can use them as long as you would like. You can use old Postage stamps that are issued after 1860; they all are valid for Postage.
One thing you have to keep in mind is that you have to provide your old stamp in good condition; this means that there should be no tears or faded areas anywhere on the stamp. The image, as well as the denomination, should be clear and easy to recognize.
Unlike the US, other countries are using stamps to send mail, and their stamps also don't expire.  These countries include the UK, Australia, and Canada. These countries also follow the same system for their mail services as the US.
Do Forever stamps expire?
No, Forever stamps never expire.
If you have a Forever stamp, then you can take another deep breath. Forever stamp offers an advantage as compared to other standard stamps. The value of Forever stamps never changes even if the postal service increases the rates.
This means that you can use your old stamp even after some time, and you won't have to pay any additional charges.
Can You Use Old Stamps when the Price goes up?
The good news is that you can use all your old stamps if the price changes from time to time. For instance, if you purchased a Forever Stamp for twenty-six cents and after some time, the price of the stamp increases to thirty cents, you don't have to worry about it because you have a Forever stamp. You can use your old Forever Stamp even if the price is changed.
Forever stamps were introduced in 2007 for the very first time. They were introduced after the complaints of Postage stamp prices increasing over time. Forever stamp usage is increasing day by day.
Moreover, Forever stamps provide the best opportunity for investors because the prices of stamps change over time, and if you have a stock of Forever stamps, you can sell them if the price of the stamps increases. This would be an excellent way to make some money.
Buying Forever stamps is also great for frequent users. If you send a lot of mail, then Forever stamps could be a great option to save money.
Also Read:
Is Forever Stamp still good in 2023?
Yes, Forever Stamps are still acceptable in this recent year. You can use your old one as well as the new one in 2023. Forever Stamps never expired. Even so, the rate may be changed from time to time as of 2023.
Is there any expiration date on Forever Stamps?
Simply No, Forever Stamps never expire as the name of the Stamp explains that. Even though the Rates fluctuated, you can still use those Stamps that you have in your pocket.
What Thing in a Stamp Affects its Validity?
The only thing that can affect the validity of your stamps is their condition.
If your stamp has tears or faded areas anywhere on the stamp, you would not be able to use it. And, if the stamp's price is blurred or covered, your stamp will also be rejected.
It's important to take care of your stamp if you want to use it for a long time. You have to store your stamps in a cool, dry place so that they never appear stained. Stained stamps might not be accepted when you try to use them.
It is also essential to cover stamps in a folder or binder so that you can protect your stamps against moisture and humidity. For that, you can buy folders that are specially made for this purpose, or you can make one folder for yourself.
Can a Torn Stamp Consider Valid?
No, Stamps that are torn from major portions like denominations are not valid.
Your stamp will be rejected if its denomination is missing. However, you can use your old stamp if it is in decent condition and the denomination is visible.
If a stamp is slightly torn from one of the corners, it might be considered valid. If the slightly torn stamp is considered valid, you can exchange it with a new stamp from your local Post office.
What are the common types of Postage stamps?
A Postage stamp is a piece of paper issued by an authorized Postal Service. Many stamps have a fixed amount of Postage written on them. Stamps can be bought individually, in sheets, or in booklets.
Here are some common types of Postage stamps that are available by the Postal service.
Definitive Stamps
Definitive stamps were the first Postage stamp of the US that was put into circulation in 1847. These stamps were made for standard, everyday mail and comes in a wide range of denominations that can range from 1 cent to $25.50.
These stamps carried a substantial range of images, including animals, famous persons, esteemed household items, and rendered national objects.
Forever Stamps
Forever stamps were introduced in 2007. These stamps are one type of non-denominated stamp. Instead of having a certain denomination, these stamps feature the word "Forever."
Forever stamps don't expire, just like all other stamps. The good thing about Forever stamps is that their value will never change even if Postal rates increase. This makes it unique from other stamps.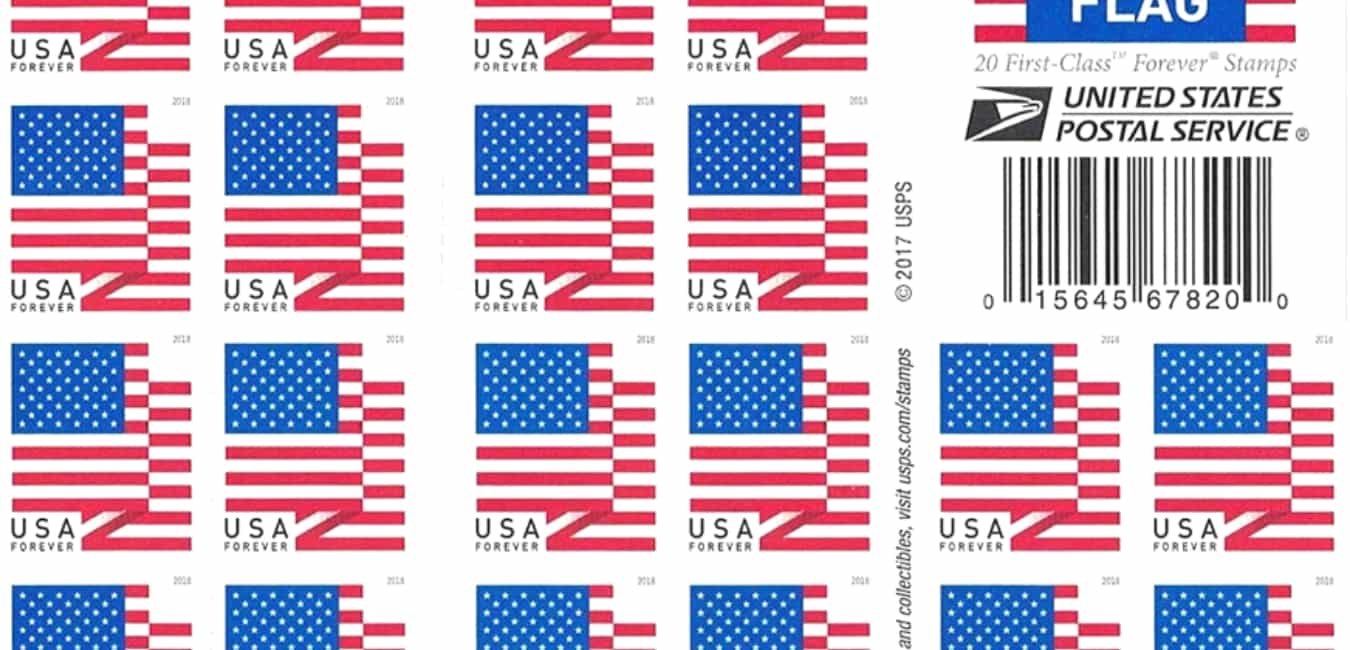 Airmail Stamps
Airmail stamps were first introduced in 1918. As it was made only for airmail service, that's why it was not as common as other types of stamps. Nowadays, airmail stamps have become more popular for National as well as International mail services.
Semi-Postal Stamps
Semi-Postal stamps are issued and sold by the Postal service at a premium to gather funds for a worthy cause. Semi-postal stamps are not frequently printed like other types of stamps.
The semi-postal stamp was first introduced in 1997 to help fund breast cancer research; that's why it is also called Breast Cancer Semi-Postal.
In 2002, the next one came out to collect funds for the families of the Twin Towers in New York after the September 11 attack. This stamp is known as the Heroes of 9/11 Semi-Postal.
The other Semi-postal stamp came in 2003 to stop family violence. In 2011, another Semi-postal stamp came out to save vanishing species.
Commemorative Stamps
USPS issues commemorative stamps to celebrate or commemorate famous person anniversaries or other things. These stamps are also not widely printed, just like Semi-postal stamps. It is printed once a year and in a relatively small number (usually from 50 to 100 million in the US).
Do Stamps Expire – FAQs
Can we reuse stamps?
The short and simple answer to this question is NO. You cannot reuse stamps, once it has passed through the mail service. Also, you cannot remove a stamp from one mail piece to use on another.
Do MoneyGram Money orders expire?
MoneyGram money orders do not expire. Money orders that remain uncashed for a year will be subject to a monthly service fee that will lower the money order's value. The monthly service fee may differ and can be found on the back of your money order in the "service charge" section.
Do Western Union Money orders expire?
Western Union Money orders do not expire, but if you do not use or cash the money order within one to three years of the purchased date, a non-refundable service fee will be deducted from the principal amount.
Do Global Forever stamps expire?
Global Forever stamps will never expire, even if the Postage price increases. You can send a letter or postcard of 1 ounce throughout the world with one Global Forever stamp, which currently costs $1.20.
What is the current value of Forever Stamp?
Forever stamps were introduced in 2007. Forever Postage stamp value will never change even if the postal service increases the rates of the stamps. The current value of the Forever stamp is $0.58.
How many stamps do you need per ounce?
If a letter weight is 1 ounce, you will need one First-Class stamp. The cost of a First-Class Postage stamp is currently $0.55. Every additional ounce is charged at $0.15, so if you are sending a 2-ounces letter, you have to pay $0.70. Remember that prices may vary from place to place.
What happens if I put two stamps on an envelope?
If you think your letter weighs more than one ounce, be sure to weigh it before mailing it so that your letter will not be returned to you. If your letter weight is 2 ounces, you have to add two stamps, and for two stamps, you will pay $70.
Do UPS shipping labels expire?
UPS prepaid shipping labels do not expire because it does not have an expiration date. The shipper's account number and address detail are embedded in the tracking number, so you are unable to use that label to ship a package anywhere besides the shipper's return address.
Conclusion
Postage stamps are a necessary thing in the US, and stamps are needed to send mail. Postage stamps are facilitating us in sending and receiving parcels for hundreds of years.
Since most of us have old stamps lying around, many people ask; do stamps expire? Luckily all types of Postage stamps, including First-Class stamps, post stamps, mail stamps, postcard stamps, Christmas stamps, food stamps, and others, do not expire.
No matter how old the stamp is, you can still use it to send mail. Some stamps' value will never change, such as Forever stamps, even if the postal rates increase. And, if you have other types of old stamps, you may end up paying a little extra to make up for the difference in postal rates.