Self service kiosks USPS machines allow postal customers to get their products and services quickly, without any extra fee charged, in the same way as ATMs do for a banking account. There are 2,845 Self Service Kiosks across the United States that offer postal services. You can reach most of them 24 hours a day, 365 days a year, which means the self-service kiosk also works on the holidays.
A kiosk offers customers the ability to weigh, mail, and buy stamps using credit and debit cards. Postage can also be dispensed in any amount for Priority Express Mail, Priority Mail, First-Class Post, and Standard Post. In addition to providing mailing information, the kiosk also allows users to renew their post office boxes, anytime.
How to Use USPS Self-Service Kiosk?
The USPS self-service kiosk is called 'self-service' because you have to get it dropped at the post office by yourself. We'll help you know how to exactly use this service.
The very first thing to do is to find a self-service kiosk nearby. Because they are greatly in use these days, you'll easily find one near your home. The kiosk machines, however, are pretty simple to use.
The first thing you'll have to do is touch the screen to initiate it.
On the screen, you'll be asked to select a service. The options would include Purchase Stamps, Mail Letters or Packages, and Other Services.
When you'll select one of these services you want, you'll proceed further. Suppose you select "Mail Letters or Packages". It would next show you a warning screen with things that are prohibited or restricted to mail. Make sure your package doesn't include any of these.
When you're sure, proceed by clicking on "I confirm my package does not contain any of the above".
Next, you'll be asked to select a mail type. Select one according to your package. Suppose your package is a priority mail express. When you select the option, next you'll be asked if you're using flat-rate packaging. If yes, select the next options accordingly.
After these steps, you'll have to enter the zip code you're mailing your package to, and tap continues. Next, you'll have to choose a street address or PO box. After entering the address, it would show you the details of your package. Now continue.
The system will process for a few seconds, and you'll be asked if you need any extra services. If you do, select from the options. Otherwise, select 'none'.
In the next step, look at the summary of your mail and click on "Buy Postage". Now, you'll be asked for the payment. Insert your card for the payments. After your authorization is approved, take your card back and make the printout.
Put the printout on your package and proceed with the options appearing on the screen. After that, you'll be given a receipt that contains the expected delivery time, your purchase price, and other details about your self-service.
Now pick up your package and drop it in dropbox without any worries!
See Also: How Many Stamps Do I Need?
Why Should You Use the USPS Self-Service Kiosk?
The USPS self-service kiosk helps you get your package dropped by yourself, even on holidays! This is the biggest advantage of self-service and the reason that most people prefer it over the USPS service. Other than this, here are the two main reasons you should consider the USPS self-service kiosk.
An easy-to-use interface
The self-service kiosk is as simple to use as the ATM machines. You have to interact with the machine through the touch screen and you'll be asked to enter your code for the payment through your debit or credit card. Other than ease of use, you can also weigh your package right at the spot and then proceed further.
A big upgrade to USPS Kiosks
To give customers a better experience, USPS keeps upgrading their self-service machines when there be a need. USPS last upgraded its self-service kiosks in 2018. For the convenience of customers, more facilities were added to the machines. Following the big upgrade, these kiosks became increasingly popular, and more people began utilizing them.
What is the benefit of USPS Kiosk self-service?
In addition to speeding up routine processes, self-service kiosks have the advantage of increasing throughput, eliminating queues, and decreasing delays. This leads to an increase in transactions and, consequently, profitability for a business.
Features of USPS Self-Service Kiosk
The upgraded USPS self-service comes with new and improved features.
Kiosks are equipped with cameras. You can communicate directly with the employees through these cameras. They will be able to deal with your questions and problems much faster this way.
Your mail piece can be accurately weighed with this machine. The scale will tell you the exact weight of the item when you place it on it.
Blue light is also present on these kiosks to suggest that an alert system is available. A scanner is also available in every kiosk.
A single output bin is available at every kiosk. There are many labels attached to this bin, which show when the item is dispensed. This bin is used to store postage. This would let you know that the entire procedure has been successful.
See Also: How Many Stamps in a Book?
Things to Know About USPS Self-Service Kiosk
Like every other posting service, USPS self-service also has a few restrictions that must be obeyed. Here are a few things you need to know.
International shipping is also possible through the USPS self-service kiosk.
If you have any confusion while processing your package, you can ask for help from the staff at the post office.
Any package which might require special handling during its posting should NOT be posted through the USPS self-service kiosk.
There is a size and weight limit for the packages. No package larger than 12 inches could be posted.
USPS self-service kiosk DOES NOT accept money in cash. You must have to pay through either a debit card or a credit card.
What is the purpose of self-service kiosks?
The main purpose of a self-service kiosk is to provide customers with a platform where they can use self-service to drop their packages for shipment, without waiting for an employee to assist them. Food orders, train or bus tickets, and deposits and withdrawals from bank accounts can all be done online through the self-service kiosk machine.
USPS Self-Service Kiosk Hours
Self-service kiosk machines are open 24 hours. There are more than 2500 USPS self-service kiosk post centers, most of which are open every single day. You can even post your packages on holidays or any urgent basis.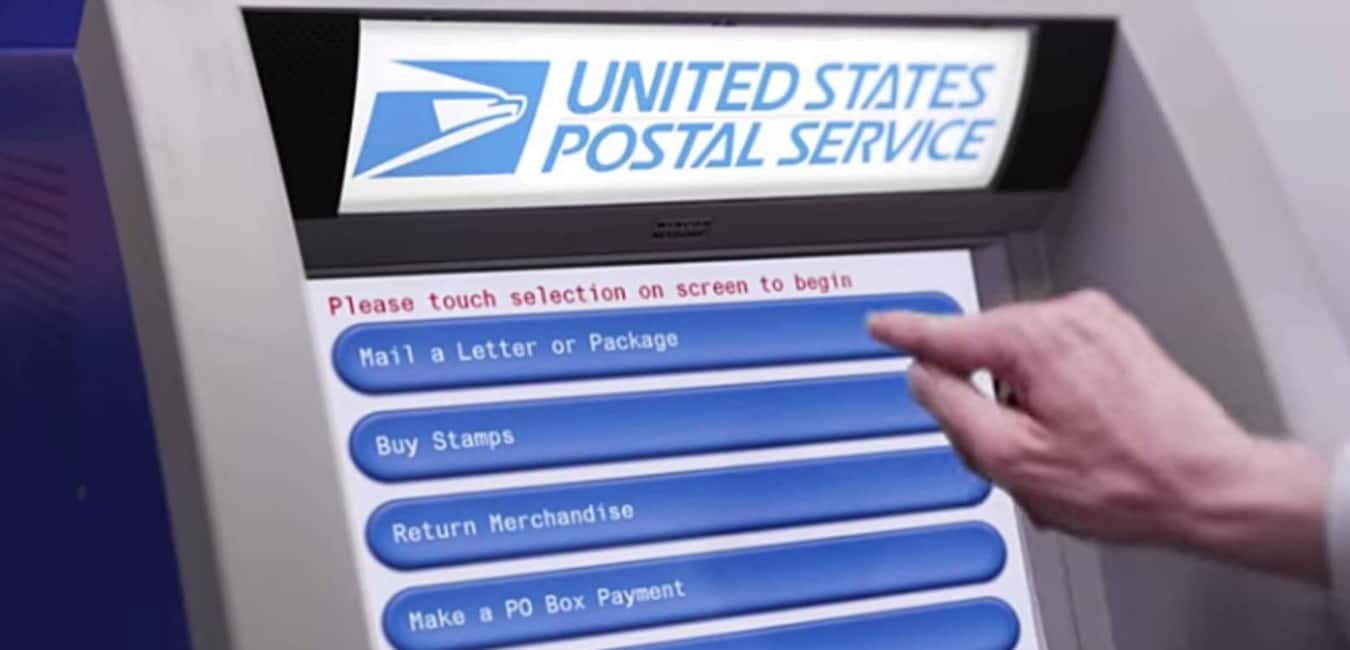 Can you ship packages from a self-service kiosk?
Yes. The self-service kiosk is a well-trusted USPS service that guarantees the safety and security of the packages until delivered. You can weigh your packages too before you drop them off for posting. The self-service kiosk does not only ship within the United States but also provides international shipping.
USPS Self-Service Kiosk Package Size
There is a size limit to your packages that are to be shipped through the USPS self-service system. Your package must NOT be higher than 12 inches, wider than 20 inches, and deeper than 14 inches. Furthermore, any package that would require special handling should also not be dropped off at the kiosk self-service.
Conclusion
USPS self-service kiosk is the anytime-to-go option for the shipment of your packages. This service remains open 24 hours a day, 365 days a year. Without even worrying about the holidays being near, you can always post your packages through kiosk self-service, any day, anytime!