France is the largest country in Western Europe. Although it doesn't seem to be far away from the United States, it is actually far away when it comes to sending packages to France. There are borders to be crossed and miles and miles of the Atlantic Ocean to cross in order to send packages to their recipients.
Being a country outside the United States, it takes days for international shipping to France. However, with certain international carriers, it has become pretty convenient to send packages, mail envelopes, and other stuff from the USA to France. Depending upon the postage rates and the type of package you're mailing, the postage rates may differ.  In this very article, we specifically cover the details of how much it costs to mail a letter to France.
For sending packages abroad, it is often asked "Can I send a letter abroad with a first-class stamp?". Well, yes. Regardless of how much the stamp cost, you can use its value, currently 76p. Mailing items abroad can be very expensive, especially if you want to track your package or get a signature upon delivery. The cost depends on the country, the weight, and the size of the item.
Using two 1st Class stamps will be overpriced by 10p when compared to the cheapest international standard letter, which costs £1.42.
Best Carriers for Mail to France
Shipping to France is easily possible through: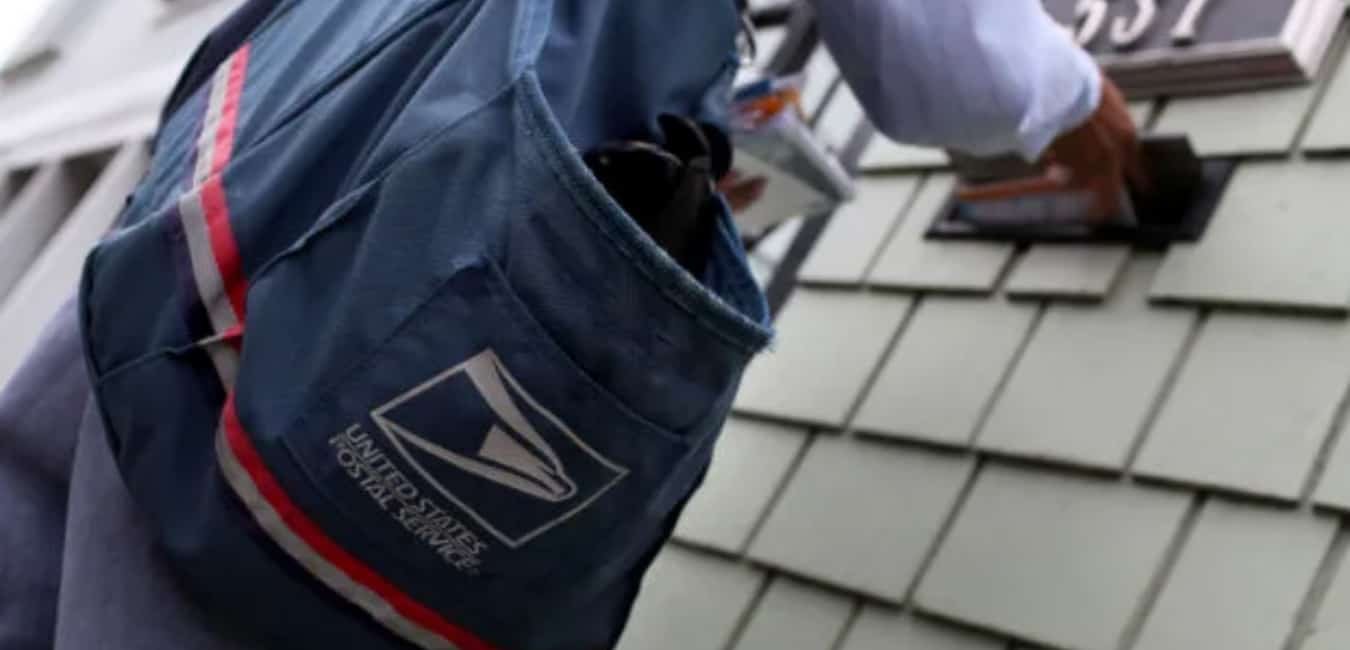 USPS is usually the most affordable carrier for envelopes and small parcels. To begin with, USPS transports every envelope and parcel to customs offices in France. Following this, La Poste (the French mail service) collects the mail and delivers it to its final destination.
Although USPS is often the least expensive, it isn't the most efficient. FedEx and UPS are better shipping options if you need your parcel to arrive quickly or within a specific timeframe. Despite its higher cost, FedEx offers the most definitive delivery dates, as well as several delivery options that guarantee delivery within certain timeframes.
Postage to Send Postcards to France
Firstly, it is important to know what exactly postcards are. As defined by USPS, postcards are rectangular cards with dimensions between 3.5×5.0x0.007 inches and 4.25×6.0x0.016 inches. A card that doesn't fit into these dimensions (or isn't rectangular) will require additional postage.
USPS offers international postage rates for shipping postcards. According to the August 29, 2021, price increase, a postcard to France will require $1.30 in postage, which can be covered by three First-Class Forever Stamps ($1.74) or one Global First-Class Forever Stamp ($1.30).
Postage to Send Standard Envelopes to France
While shipping internationally to France, 'standard envelopes' have a specific definition. A standard envelope is defined by USPS as an envelope that has dimensions between 3.5×5.0×0.25 inches and 6.125×11.5×0.25 inches. In the case of rigid or irregular envelopes, they will have to hand-sort your envelope since it will not be machine-sortable. An additional $0.21 must be paid for non-machinable envelopes.
USPS offers international postage rates for sending envelopes to France. You will need $1.30 if you are mailing an envelope weighing less than 1 ounce to France using a Global First-Class Forever Stamp ($1.30) or three First-Class Forever Stamps ($1.74). For every additional ounce, your envelope weighs, you will need to add $1.13 to the postage.
Buy French Postage Stamps Online
This is probably the best thing about stamps. You can buy them online! La Poste also offers online buying of stamps. In addition, Couriers-Colis-En-Ligne offers you the capability to print out a stamp from your home. The cost, however, does not change significantly. So, you don't need to worry about the cost. It is also possible to send recorded delivery e-mails using this service.
The Poste does not require you to purchase a stamp book. You can buy stamps in several places, such as newsagents (Tabac). You can avoid La Poste's queue by purchasing your stamps from the Tabac in advance! You can either use a cashier or a self-service machine to send a letter in this way.
Postage to Send Large Envelopes to France
For different envelopes, postage rates could be different depending on their weight and size. Here is an idea of the expected postage required according to the package weight.
Weight
Postage Required
Stamps Required
1 Ounce
$2.6
2 Global Forever Stamps for $2.60
OR
5 First-Class Forever Stamps for $2.90
2 Ounce
$3.7

3 Global Forever Stamp for $3.9
OR
7 First-Class Forever Stamps for $4.06

3 Ounce
$4.73

4 Global Forever Stamp for $5.20
OR
9 First-Class Forever Stamps for $5.22

4 Ounce
$5.81

5 Global Forever Stamp for $6.50
OR
11 First-Class Forever Stamps for $6.38

5 Ounce
$6.8

6 Global Forever Stamp for $7.80
OR
12 First-Class Forever Stamps for $6.96

6 Ounce
Around $8

7 Global Forever Stamp for $9.10
OR
14 First-Class Forever Stamps for $8.12

7 Ounce
$9

7 Global Forever Stamp for $9.10
OR
16 First-Class Forever Stamps for $9.28

8 Ounce
$10

8 Global Forever Stamp for $10.40
OR
18 First-Class Forever Stamps for $10.44

9 Ounce
$12.2

10 Global Forever Stamp for $13
OR
22 First-Class Forever Stamps for $12.7

10 Ounce
$12.2

10 Global Forever Stamp for $13
OR
22 First-Class Forever Stamps for $12.76
Postage to Send Packages to France
To send a package to France, the postage is calculated according to its size and weight. You can use the USPS Postage Price Calculator from the official website of USPS to calculate the postage cost for your parcel. Simply follow the steps below to use the tool:
Under the drop-down menu titled "What is your destination country?", choose "France."
In the next step, enter the date and time when you intend to ship your parcel.
Then, choose the type of parcel you would like to ship.
Various shipping options with price ranges will be displayed on a new page.
Based on the date you wish to receive your order; you can select a shipping method of your choice. In the end, using the USPS Click-N-Ship tool, you can print an order label after you've determined the shipping method you wish to use.
IMPORTANT – Use USPS Flat Rate boxes instead of calculating your package's size and weight if you want to avoid calculating your package's size and weight. Flat-rate boxes can be shipped regardless of their weight and are available in various sizes.
Delivery Times USA to France
Delivery times would be different for different types of shipping methods and the package you're shipping. Shipping methods and carriers affect the time it takes for your package to reach its destination. Customs delays, however, can also affect delivery times. Usually, UPS, USPS, and FedEx ship parcels to their final destinations within 2-7 days.
If a standard shipping option is used, USPS First Class Mail International delivers postcards and First-Rate envelopes within 7-21 days on average.
However, in case you use Priority Mail International instead of regular mail, you can reduce delivery time to 6-10 days.
Also, Postcards and letters sent via Priority Mail Express International will arrive in 3 to 5 days, yet it is the most expensive option available.
Addressing Mail to France
It is extremely important to address your mail in a proper manner. Proper format with the exact location and address of the destination of your package should be mentioned. Both the 'Destination Address' and 'Return Address' should be mentioned on your envelope to be shipped.
Destination Address should be written on the back of your envelope, in the center. Nothing else other than the destination address should be written on this side.
Put the Return Address on the envelope flap, on the front side after the envelope has been sealed. This is to ensure that the envelope has not been opened or tampered with.
The next important thing after the address is the correct lining and a specific number of characters. Only addresses that meet the following criteria will be accepted by La Poste:
There can be no more than 38 characters per address line.
There can be no more than six lines in an address.
Here is what a complete address should look like.
If you're shipping to some company or organization, then the first line should necessarily include the name of the company or an organization.
Line 2 should contain the name of the person or family you're shipping to. The last name should be written in capital letters. For example, Mr. John CLAY.
Line 3 of the address should contain the street and house number. Also mention the street name if any. Do NOT separate the street and house number with a comma.
Line 5 should contain the Zipcode and the city. Zipcode should be written first. In the case of a CEDEX address, it will still contain the five digits of the postal code, but the word "CEDEX" will be capitalized after the city.
Line 5, in the end, would contain the country name. In the case of shipping to France, you'll simply have to mention "France".
Consider this as an EXAMPLE.
FRENCH COMPANY
Mr. John CLAY
100 Street
75010 Paris CEDEX
France
Custom Forms for Shipment to France
Criteria would be different for the shipment of different packages.
USPS Custom Forms can be printed if you are shipping with USPS. An envelope or small parcel requiring a customs declaration requires a Form 2976 Customs Declaration, appearing on the shipping label as a separate item.
Your parcel will need a Form 2976A Customs Declaration and Dispatch Note CP 72 if it is larger than a medium to the large box or if it is valued at more than $400. This includes a custom report inside your parcel.
If you're shipping via UPS, you can use UPS Electronic Data Interchange (EDI) to complete customs forms. And if you're using FedEx, then Electronic Trade Documents (ETD) are available to help you complete your customs forms if you're shipping via FedEx.
How Many Forever Stamps do You Need for an International Letter?
In the United States, postage for sending an international letter of 1 ounce is $1.15. A 3 Forever stamp is more than sufficient, or you may also go for 2 Forever stamps and any additional postage total.
Can I use forever stamps for international mail?
Yes. You can definitely use Forever Stamps for international mail, but the cost of international postage is higher than domestic postage, so customers must attach additional postage. On the day that the Forever Stamp is used, its value will be determined by the domestic First-Class Mail letter price in effect.
France Prohibited and Restricted Items
Certain objects or items are prohibited to be shipped to France. Here's a list that'll give you an idea of restricted items.
Food products such as vegetables, fish, plums, and nuts are not marked correctly.
Non-addressed perishable biological substances.
Plants, seeds, bulbs, and cuttings without a certificate of plant health.
Cigarettes and tobacco products weighing more than 10 kilograms (22 pounds) are prohibited by the State Monopoly.
Plants and animals that are alive
Almost all biological substances
Radioactive materials
in the form of tablets or packets of saccharine.
Urns for funerals
Weapons and ammunition
France's legal tender coins, banknotes, and precious metals
Butane-powered cigarette lighters
A medical product or medicine that is not licensed.
Other than all these items, there are plenty of others too. Make sure you acknowledge all the prohibited items and necessarily avoid shipping them in any case.
Our Verdict
There are certain rules and regulations that are necessary to be acknowledged before you ship an item. Make sure you follow them and provide the most accurate details that are required. Also, in case of any queries, you may contact the concerned delivery service. You can further track your orders and keep in view the status.