When you're on a deadline to get some legal paperwork signed and delivered, having a Notary Public on speed dial can be super helpful. Unfortunately, most of us struggle to find spare time to step outside the office and look for one locally.
As notarization is a crucial component of the legal process, it helps prevent fraud and misunderstandings, which would lead to even greater headaches along the way.
Have you ever needed a notary public for work documents but struggled to find one locally? Or, have you been considering the benefits of becoming a notary yourself?
In this article, we'll answer all your questions about a post office notary, including what notarization is, what is a notary public, why you need it for your documents, how notary services work, and what are the requirements for your notary visit.
Read This How Many Stamps Do i Need?
What is Notarization?
Notarization is the process of getting certain legal documents such as wills, contracts, trusts, deeds, and affidavits, signed, sealed, and witnessed by a licensed notary public to grant the document a legal effect.
The National Notary  Association described notarization as "an act of avoidance of official fraud that reassures the parties to the action that a document is authentic and can be trusted."
Above all, notarization is the guarantee by a properly selected and unbiased Notary Public that a document and signature is true and genuine. Its signer acted without any inconvenience or coercion and expected to have full force and effect on the document's terms.
Thus, the notary's core value is the impartial confirmation of the signer's identity, willingness, and awareness.
This process consists of three parts performed by the Notary Public that is:
Vetting: The Notary Public shall review the document submitted in order to ensure that it is authentic.
Certifying: The Notary Public shall check that the person signing the document is actually the same person. The public notary would also ensure that the signatory recognizes the document and is signing of their own free will.
Record-Keeping: All transactions observed by the Notary Public shall be reported in the official log with all the names and records of those who signed the notarized document.
Once the Notary Public has completed these three steps, the documents will bear the Notary Public's seal, and the signature will then be returned to the appropriate parties.
What is a Notary Public?
A notary, sometimes known as a public notary or a notary public, is a person who acts as an official and impartial witness that's usually needed to supervise the signing of important legal documents.
According to the NNA, "A notary public is an honest person appointed as an impartial witness by the State government in conducting different measures for preventing fraud in connection with the signing of important documents."
It is the notary's responsibility to prove to the signing party his true identity, his willingness to sign without threats or harassment, and his knowledge of the document's contents.
Also Read: Do CVS sell stamps? 

Who is a Notary Public?
The notary public is any qualified person who has passed all qualifications, including exams and expectations, and has received a valid certificate to act as an official and impartial witness of the signing of documents.
Before using their services, it is important to verify the notary. Occasionally, there are scammers that provide notary services who are not eligible to do so and who may even provide services not rendered by notaries.
The National Notary Association recommends looking for red flags: "Notaries are not permitted to give legal advice or to translate their titles into foreign languages."
To take advantage of immigrants who may not be familiar with variations between the duties of American notaries and notaries from their home country, Scammers use these techniques. So, you should be aware of scammers.
Does the Post Office do a Notary?
The short answer to this question is No. Sometimes It may come to your mind to have your nearest United States post office notarize your documents.
Notary publics are a state service, and post offices are federal institutions. As a federal institution, the post office does not have notary public services. Contrary to popular belief, you will not get a notary at your public post office.
Several post offices have a private firm in the same building that provides a notarization service. Not all U.S. Post Office locations have this service, so make sure your first call the nearest post office.
As part of the post office service to clients, the actual post office would not have a notary public.
Where to Get a Notary Service?
There are many places that offer notarization services around a city or town. The easiest way to get a notary public in your area is to do a quick internet search and call the business to see if they perform the type of notarization service you need.
Notaries are usually available to customers in many financial services businesses, automobile securities transfer services, shipping services, and many more. Consider visiting a privately-owned shipping store or a bank for a notary public.
Read This: What is Expedited Shipping
How Can I Find a Notary Near Me?
If the US Post Office does not offer notary services near you, you should consider additional Notary services locations. There are many places that offer notarization services. These includes:
1. Banks
The most convenient way to find a notary public is through a bank. Rather than looking for a United States post office notary.
In fact, nearly all banks near you will offer a notarization service to their customers for a small charge, or some banks will notarize documents free of charge if you have an account at their branch.
There are some documents that a bank will refuse to notarize. In that case, you must go to some other store and have their notary public perform the service.
2. Mobile Notary Services
Mobile notary services are the other convenient notary services as Mobile notary services are by far the most convenient, as they will come to your home or office to notarize your document. However, they are also typically the most expensive option.
3. Hire an online notary
You can also hire an online notary. Signers in any state can receive notarized documents online via virtual notaries public services such as NotaryCam, Notarization, DocVerify, or more.
Not all companies or agencies accept documents that have been online notarized. To avoid the hassle of rejecting your notarized document, you should ask the document recipient if they accept forms completed by a remote online notary before selecting this option.
4. Courthouses
The other location from where you can get a notary public service is Courthouses. Courthouses have notaries available during regular business hours. Typically, the county clerk's office fulfills notarization requests.
5. UPS store
The other location which you can find near you for notary services might be UPS. UPS has a notary on staff. It is typically best to call ahead to confirm that a Notary Public is available.
There are several other popular types of industries where you can find a Notary Public near you. These include:
Corporations or offices of Law
Real Estate Firms or Offices
Preparing tax or accounting departments
Places of AAA
Shops of Photocopying
Parcel Shipping shops or Stores
license service centers
Colleges
Accounting offices
Universities
Institutions such as Libraries
And private shipping stores such as UPS.
It is usually best to call before considering these options to make sure the staff notary is available. Some companies may limit their notary services to customers only.
Do People have to Pay for Notarization?
Yes, in most cases, people have to pay for Notarization. Sometimes, in return for carrying out notarization services, a company or business may demand a fee.
If you know someone who owns this service, they will do it for free. But, to prevent any problems later on about document validity, you need to make sure that this individual is up to date and officially licensed.
How Much Does a Notary Cost?
Notary fees are often determined where the document is notarized, states determine the maximum allowable fees, and the notaries can charge any amount up to that maximum. Generally speaking, the notary service cost is around $10 to $30, depending on the state.
Some legal documents would require a witness at the signing to be present.  Though some US Post Office locations will have staff available to act as witnesses, it is not guaranteed. Therefore, bringing your witness is the safest option.
Where Can I Get Something Notarized for Free?
There may question arise in your mind "Can I notarize something for free?"  The answer to this question is Yes, you can notarize something for free.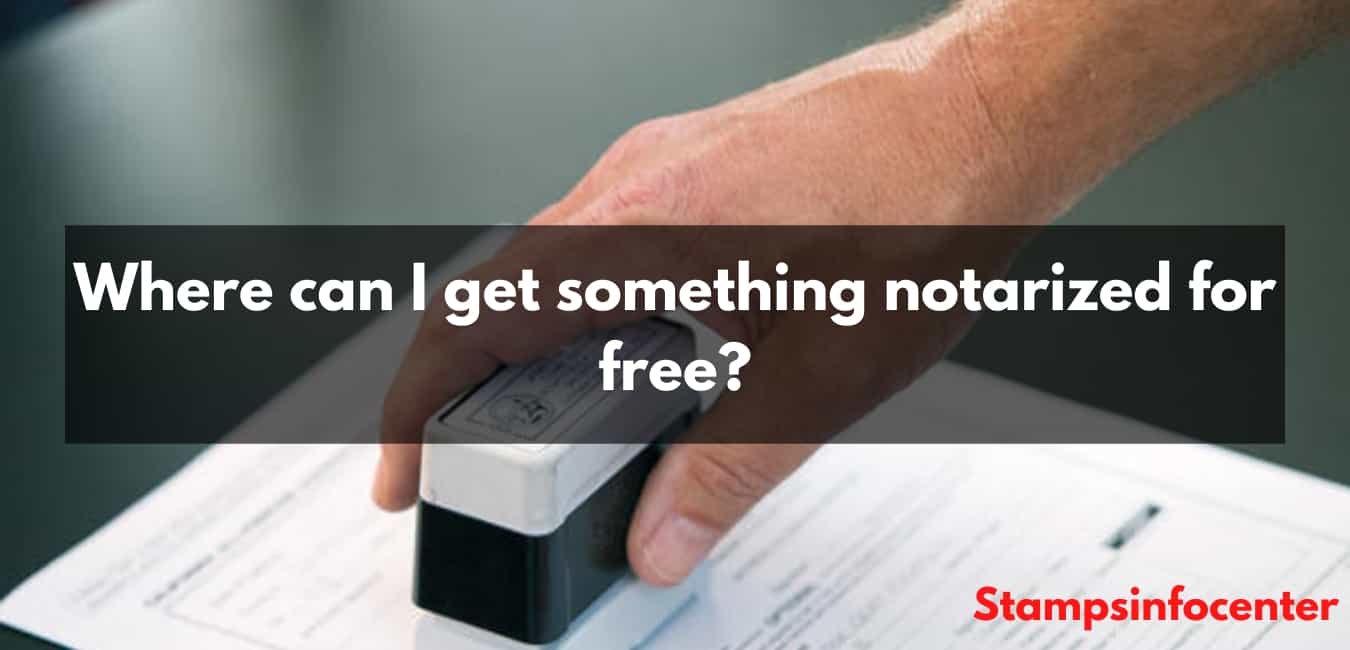 The other question that may come to your mind is, "Where can I get a document notarized for free?"  Usually, your local bank is the only place that could provide notary services free of charge, but there are fewer chances for this.
There are some other places that might not charge for notarized documents. These include:
The Auto Club
Credit Unions
Public Libraries
Your Real Estate Agent
Your Insurance Agent
Police stations
Courthouses
Clerk Offices
County Clerk Offices
The above places may not charge for notarized documents, but in some cases, free notarized documents are only for members.
Also Read: Does Walgreen sell stamps
What You Need for Your Notary Visit
If you have a notary public in the US Post Office building near you, you have to bring the following documentation for your notarization:
Valid, Government-issued Photo ID
The notary public can use this form before you sign your papers to check your identity.
Make sure you bring the original version of your document.
The notarization fee is state-specific. But, depending on the area, most Notary Publics charge $10-$30.
Witness (when applicable)
Some legal documents will require a witness to be present at the signing. Though some US Post Office locations will have staff available to act as witnesses, it is not guaranteed. Therefore, bringing your witness is the safest option.
Read More: How Many Stamps in a Book
Why do we Notarize Documents?
It is necessary to have a notary present for signature on certain documents. It is important to have an official confirmation that the signature is authentic for documents that require identity verification.
According to the business resource website Entrepreneurship In A Box, "Notarization proves that the identity of both parties is real and not a stolen or fake identity. This helps to deter fraud and ensure that every document or contract is executed correctly.
It is up to the notary public to make sure that the signatories appear before them and have a proper identity. The Notary Public Officer signs the documents and guarantees the proper signature.
The notary guarantees that the signatories are willing and aware of the agreements. Financial institutions usually require this when a transaction is needed regarding a property.
Conclusion
Notary services are necessary for various situations, including student registration, large ticket purchases, and rental agreements.
Knowing the place of Notary Public and the types of notarization services they can perform is important to ensure proper and quick legal execution.
FAQ's
How much does a notary stamp cost?
The notary stamp is available at most standard office supply stores; stamps can be ordered with the specific wording needed, including the printed version of your name, exactly as you will be signing it as a notary. Stamps can range in price from $18 to $40 depending upon the state's size and requirements.
Where to purchase a notary stamp?
The American Association of Notaries is the only place where you can purchase a notary stamp. You can get notary stamps, notary supplies, and notary seals from the American Association of Notaries.
Does FedEx notarize documents?
You will not find any notary services in FedEx. However, you can go to the closest physical option, which is UPS.
How much is the Kinkos notary fee?
FedEx Office (formerly Kinkos) no longer offers notary services due to a legal case where an employee notarized a forged signature.
Does the USPS have a notary?
The short answer to this question is No. The USPS is a federal institution that manages the post offices of the United States. Since the USPS is a federal institution and the states issue notary licenses, therefore USPS does not have notary services
How much does the post office charge for a notary?
The post office does not have a notary. However, the fee for notarization is state-specific. However, most Notary Publics charge $10-$30 depending on the state.
How much annex postal notary cost?
The services of commissioned and insured notary public are available at most Postal Annex locations. Usually, they charge $15 per signature if they are available.