For those who don't know much about Instacart, it is an online platform that provides grocery ordering services through its app and website. On Instacart, you can find different grocery stores that are affiliated with it, and you can place an order from whatever store you want.
Instacart is one of the most popular platforms that provide such services, and it is available for use in over 5500 cities throughout Canada and United States. If you're somebody who lives in one of those cities, you can simply have groceries and other items delivered to your doorstep in just a few hours from the most trusted online service!
Is Instacart shopping worth it? Instacart provides their own shoppers and drivers to make their services convenient and efficient for their customers. Instacart shoppers get your required items shopped for you while the drivers get them delivered to you safely.
Now the answer to the question 'of whether Instacart is worth it or not is to be found below in our article. Continue reading to know all that you need to know about Instacart and the pros and cons of Instacart shopping.
How Does Instacart Work?
Instacart allows you to shop online for groceries at local stores, and then a personal shopper from Instacart completes your order and delivers it just the same day. However, fresh produce is not stocked in some warehouses like that of other grocery delivery services, so, you don't get to order fresh produce through Instacart.
Here's how the app works. Downloading the Instacart app and creating an account are the first steps to using it. You can then begin shopping. For that, you'll have to browse the store's different categories of items or search for specific items that you need.
Add the items you want to your cart and then proceed to checkout as you'd do for any online order. Here, you'll enter the required details such as the delivery address, and select a delivery timeframe. It's possible to get an Instacart delivery as soon as an hour, but there's usually a small fee for it, around $2. Usually, the delivery is done within 2 hours, though you can get a few dollars off if you're flexible and willing to wait three hours.
Chatting with your shopper while they shop is one of the coolest features of these apps. Your shopper will send you a text when they begin, and they'll keep you updated if they want to confirm something or if anything runs out. Likewise, you can also contact them if you forgot to add something to the list and they will do their best to get it for you.
When the shopper has shopped items for you, your complete order will be loaded onto a vehicle and delivered to your doorstep. And interestingly, even if you aren't home, they'll leave your order at some safe place outside your home.
Is Instacart Worth It?
TOTALLY. Instacart is an amazing platform for both; ordering from and working at!
You should consider Instacart for a flexible side business when it suits you. There is no prior experience required, and the pay ranges from $15 to $20 per hour in most markets. Instacart can't be done full-time or replaced with your primary source of income, but still, it gets you paid a good amount of money if you work some good hours.
Here are a few reasons I'd like to mark Instacart as being worth it, or you can say the advantages of Instacart.
It's one of the leading grocery delivery services, and you can make a lot of money with tips or large batches.
The huge selection of grocery stores that Instacart offers is something that not all other delivery apps offer. Most of them only have access to a few or only one store. With partnerships with Aldi, Walgreens, Target, and many other grocery stores, Instacart has quickly established itself as one of the largest grocery delivery services.
Communication in real-time is possible between the user and the Instacart shopper, making the replacement of items quicker and more convenient.
It is also possible to set up replacements prior to the shopping process if the user is not available to oversee it.
In case an item can't be found by a shopper or replaced, Instacart offers on-the-spot refunds.
Instacart sorts their employees according to whether they can deliver alcohol or not. Grocery orders containing alcohol cannot be accepted by those under 21. They are therefore never concerned about delivering alcohol. Alcohol-related grocery orders are handled by workers 21 and older.
The app even reminds the user to tip their Instacart shopper several times throughout the process, especially if their shopper performed well.
If your preferred grocery store has a pharmacy, you can also pick up your prescriptions there. However. shoppers can pick up only certain types of prescriptions.
Using Instacart is easy due to its simple interface. Getting started is as simple as logging into your account, then choosing the store you would like to shop at. Even if the store isn't automatically listed, you can enter its name in the search field. Your most frequently used stores will likely appear when you log in the next time, as Instacart strives to make using it even easier for you.
You can schedule your order arrival time as per your convenience and availability. Also, depending upon your order, you won't always have to pay for delivery.
You can also use promo codes and coupons at the time of checkout if you have some. While you are shopping, you'll see certain items having coupons attached. Clicking on the banner associated with the coupon allows you to apply it immediately.
In the event that your driver does not show up with all your items or something is damaged, you are entitled to a refund. With Instacart, you never have to worry about wasteful spending. Your problem can even be reported within a generous timeframe of up to 14 days in case of a problem (damaged, missing or incorrect items) with your order.
Last but not the least, you get to save up a lot of time and effort by not going to the grocery store yourself. Instead, you place an order and just get on with other stuff without having to worry.
Instacart: Delivery & Express Fees
Instacart isn't entirely free! With all its advantages and the convenience it provides, it does cost you money as well. Take a look at how Instacart charges delivery and express fee.
Delivery Fees – Making an Instacart order requires a minimum purchase of $10. In order to avoid flooding the app with one-item orders, this feature is enabled.
If your order exceeds $35, the delivery fee is $3.99 for standard delivery and $5.99 for urgent delivery. If the order is under $35, standard delivery is $7.99, while fast delivery is $9.99. On every order, a service fee of 5% is added.
Sales tax is not included in the fee if your order is smaller than $25. Instacart may add an additional fee for drivers to compensate them for the extra workload during especially busy periods.
Express Fee – This one is a premium service. Using Instacart Express comes with a small monthly fee, which can be used to drop some of the services' usual charges. A year's subscription costs $99.9 but if you pay all at once, the price drops to $99 only.
If you join Instacart Express, your orders over $35 will be delivered for free and service charges will be dropped. For this reason, Instacart Express is a great option if you primarily shop online.
You might be interested to know: Does Instacart take EBT?
How Convenient is Using Instacart?
I'd say Instacart is too much of a convenience for those who prefer to shop online rather than run to the stores for groceries and other stuff. But at the same time, because you're shopping online and you might be picky for how you shop for things and what exactly you'd want, it may be not-so-convenient for some users as well.
Here's why I think Instacart is convenient. The convenience of shopping from your computer or phone eliminates the need to visit the store. Time is also an important factor to consider here because you actually get to save it by not stepping out of your house.
The target audience for Instacart is people who are too busy to shop on their own. There are many reasons to choose Instacart, from a demanding job to a long commute to family commitments. And so, having your items delivered at your doorstep within just two hours is definitely very convenient.
And here's how some people may think Instacart is NOT convenient. A very specific shopping preference is the only time Instacart may not be convenient for you.
It's easy to specify brands on Instacart, but it's harder to specify the little details such as the size of potatoes or the type of onions you'd want.
Instacart may let you manage your shopper directly from the app if you are picky enough about these things. And so, I think you are better off going yourself to the store if you spend this much time on the process and still, might end up unsatisfied.
How Much Does Instacart Pay its Shoppers?
Personal shoppers earn around $18/hour while In-Store shoppers earn around $14/hour. The best part of this is that these are before including the tips.
Instacart is a good source of income if you consider the flexible hours as well as the occasional generous tips that you can enjoy alongside it. Although Instacart may pay you, there are still some expenses that you may encounter while working that you need to be aware of before you make any decisions.
The payment that Instacart offers to its shoppers depends upon a number of factors that include the type of shopper, region/city, number of batches, distance, demand, and tips. You might either be working as an In-Store Instacart Shopper or a Full-Service Instacart Shopper and therefore the hourly and weekly pay provided by Instacart will vary.
Also, depending on your region/city you may earn more or less due to the demand and also due to tips that may vary from one place to another. You may also earn more if you are willing to go the extra mile and deliver heavy/bulky items as Instacart provides better pay for those.
Requirements for Being an In-Store Instacart Shopper?
Here are a few requirements that make you eligible for being an Instacart shopper.
It is necessary that you have regular access to a car ONLY. No scooters or bikes.
You must be at least 18 years old.
Be legally authorized to work in the country where you are, U.S. or Canada.
An agreement to undergo a background check.
Ability to lift 40 pounds without assistance.
You will need a smartphone that could run the Instacart shopper application.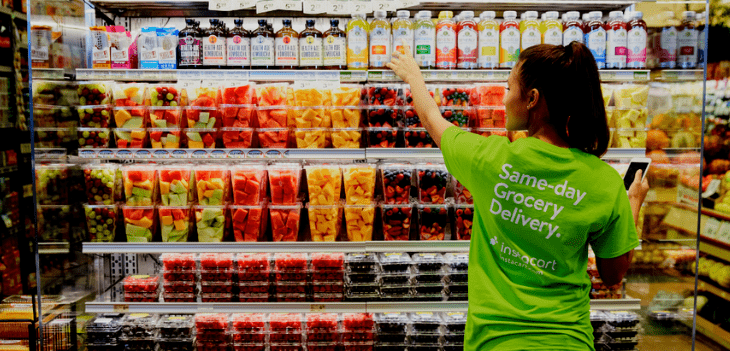 Important Things to Know If You've Become an Instacart Shopper
If you're planning on working as an Instacart shopper or even if you've been selected as one, these are the few important things you must know.
There is a 10-day waiting period for Instacart's background check. To determine if you have committed any major violations within the last 7 years, this check examines your criminal record and driving record.
You can begin your application by downloading the Instacart shopper app and entering the necessary information.
If you are applying, ensure you have your driver's license and social security number on hand.
As part of the process, Instacart also requests your direct deposit and banking information so that it can pay you for the batches you complete.
The waitlist for Instacart may take a few weeks or months if you live in an area with a lot of shoppers.
A Typical Day on Job Being an Instacart Worker
Wondering what it is like being an Instacart worker? Here's what your job would include if you're thinking of joining in as an Instacart shopper.
Instacart Batches Are Received and Accepted
As soon as you sign up for Instacart, you will see a list of "batches" that need to be completed.
Orders and batches are the same things. You can tap a batch to see:
A list of the batch's products
Your shopping destination
When you drop off the order, how far would be the delivery distance?
An estimate of your earnings based on Instacart payouts and tipping probabilities
Once you've arrived at the store and are ready to shop, you can claim the batch you'd like by clicking 'start shopping. The customer will also know that you are headed to the store to begin shopping for their order.
Grocery Orders Assembled
When you find products, you mark them as found on the app. If you want to confirm you've added a product to your shopping cart, you can scan its barcode or enter its name manually. As you shop on Instacart, do this for every item!
Just in case some item is out of stock, you may try looking through the app where the customer might have mentioned an alternative for that particular item. Or you may simply message the customer through the Instacart app and ask for an alternative.
A refund can also be offered for items out of stock and no alternative found or wanted.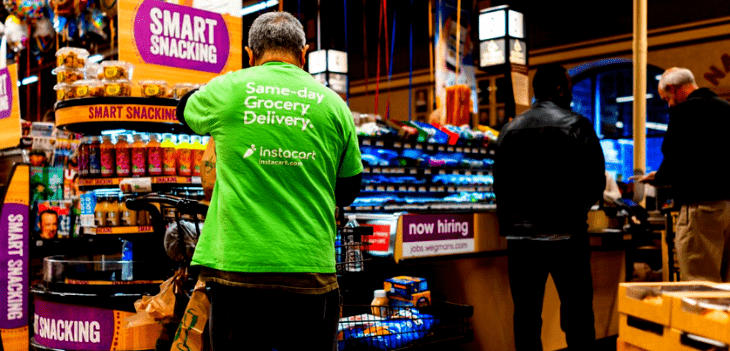 The Checkout Process
You're almost ready to check out once you've gathered all your items.
To pay for their orders with Instacart, shoppers use a payment card. Instacart cards are essentially prepaid debit cards that are exclusive to the service. Therefore, you do not use a credit card or debit card to make payments.
Receive Payment After Completing Deliveries
Load your car with groceries once you've checked out. To prevent any spills and smashing of fruits and vegetables, load grocery bags very carefully. Additionally, if you have foods that are sensitive to temperatures, such as ice cream or hot-and-ready meals, make sure the bags you use for delivery are insulated.
Instacart's app will help you find the drop-off location once you load your car. While you're on your way for the order delivery, do tell the customer.
For contactless delivery of groceries, customers may request to either leave the groceries at the door quietly or just ring the doorbell and leave. They can also leave notes about specific doors where groceries should be dropped off, such as building door codes. So, keep a check on them too.
As soon as you've dropped off the batch, snap a photo of the groceries on the doorstep and send it to your customer as a confirmation.
You can start accepting more Instacart batches as soon as you mark the current batch as complete. As for payments, they arrive roughly 30 minutes or an hour after you complete a batch while tips can sometimes take longer.
Instacart: Is It Worth the Money?
I think it is. Of course, you cannot get all the conveniences free of cost! And spending some money for all the convenience and ease is in no way a wasteful thing.
So, if you're getting all the items you need just at your doorstep through a personal shopper, whom you can contact and instruct for anything related to your order, and you'd have to pay just a little extra for all this convenience, I think it's no way NOT worth the money. It surely is worth the money!
Pros
A great option for people with busy schedules
Very helpful for differently abled people
You can shop from any major store you want
Drop-off timings can be scheduled
Shoppers can be contacted for any changings in the order
Cons
Relies a lot on tips for the workers
Non-members may find the fees to be downright exploitative.
Not available in many rural areas
More costly than the in-store shopping
What Stores Are There on Instacart?
Different states could have a different list of stores on Instacart but mostly, these are some of the common stores you'll find.
Costco
Target
Hyvee
Total Wine
Sephora
Cub
Publix
Aldi
Fresh Thyme
Lunds and Byerly's
Lowe's
Sam's Club
Dick's Sporting Goods
Walgreens
Best Buy
Instacart Vs Two Other Popular Stores
Instacart Vs Amazon Fresh
Instacart is a better option. In the case of Amazon Fresh, although you can use coupons with Amazon Fresh when you have Amazon Prime, it isn't possible to use them with other subscription services.
Also, you must have a Whole Foods membership in order to use Amazon Fresh. And aside from its limited range than Instacart, it has also been known to shut down service in cities where it previously operated which obviously isn't a very appreciable thing.
Instacart Vs Shipt
A very similar business model can be found in Shipt and Instacart. But there are a number of advantages that Instacart offers, such as more shopper communication options, more retail partnerships, and more pricing flexibility than Amazon. These aren't available with Shipt.
Also, with Shipt, the annual membership costs only $99, and delivery fees for non-members are $9.99.
Neither Canada nor rural areas of the United States are covered by it.
Is Instacart Worth It – FAQs
Do you make good money with Instacart?
You can. An in-store shopper generally earns between $6 and 24 dollars per hour, but it can vary and is mostly around $15. This is a pretty good amount of money for an hour, and you get provided with some benefits as well.
Is it better to do Instacart or DoorDash?
It is likely that DoorDash will be the easier gig. There is no shopping required like you have to do with Instacart. Also, Instacart does not offer Peak Pay incentives, while DoorDash does. So, with DoorDash, you may be able to earn more money.
Who is Instacart owned by?
Entrepreneur Apoorva Mehta, an Indian man owns Instacart.
Do you get paid for distance on Instacart?
Yes. If you shop and deliver, you'll earn between $7 and $9. Yes, the $7-$9 Instacart payments always include mileage (mileage only from the store to the delivery destination, not before or after).
What percentage does Instacart take?
There is at least a 5% service fee and a $3.99 delivery fee for an Instacart order. You can save money by using Instacart Express if you are a regular grocery delivery user.
Where is Instacart used the most?
These are the 12 locations in the United States where Instacart is most used. 1. Atlanta 2. Austin 3. Boston 4. Chicago 5. Denver 6. Houston 7. Los Angeles 8. Miami 9. New York 10. Philadelphia 11. Seattle 12. Washington, D.C.
Conclusion
Instacart is worth it!
It's a great place to work if you're looking for a part-time job that doesn't involve a lot of interaction with people and you don't mind driving around to complete your orders. You can earn a good amount of money if you're good with your services and work for some good hours.